Jean Donnelly Joins Sandbox Banking as Chief of Staff
---
We are excited to announce Jean Donnelly has joined Sandbox Banking as Chief of Staff. Jean is a proven business leader with extensive experience driving growth initiatives from start-ups to well established companies.
With over twenty years of experience in leading technology, operations, and process excellence within both the financial services and clean tech industries, Jean has a portfolio of proven tools to help move businesses forward including building partnerships, product design and business transformation.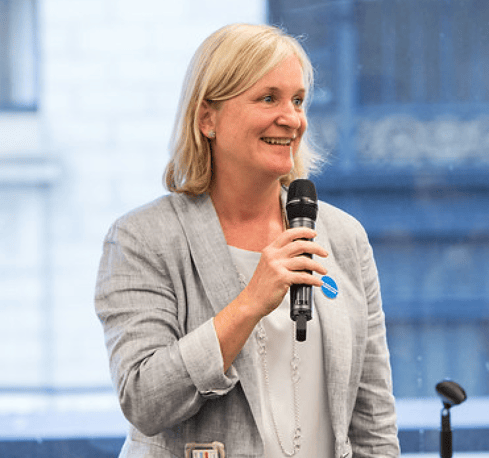 "I have always admired the Sandbox Banking team for their innovation and spirit and am excited to build and scale with them. The Banking-as-a-service space is just coming into its own in the US, and the deep expertise that Sandbox Banking brings to the area is key to enabling both banks and fintechs bring the next generation of products into the marketplace."
She is actively involved in the FinTech/Financial Services industry and has strong relationships with financial institutions, startups, accelerators, regulators and universities. Most recently, she built and led the nonprofit accelerator, FinTech Sandbox, which focuses on helping start-ups utilize data and grow their business.
"As we find ourselves in a rapidly accelerating stage of growth, we are excited to have Jean join the Sandbox Banking team. We've known Jean right from when Skye and I started in fintech back in 2015, so we've already benefited from her experience building fintech ecosystems and team culture!" Ravi Balasubramanian, Sandbox Banking's CEO and Co-Founder
Jean received her undergraduate degree in industrial engineering at Rensselaer Polytechnic Institute and her MBA at University of Edinburgh. She is a member of the Women Invested Advisory Council, an initiative by the nonprofit, Commonwealth and is also an industry advisor for the University of Edinburgh's fintech program and mentor at Techstars and MassChallenge FinTech.
Jean will be focused on scaling Sandbox Banking's partnership and business development functions. Please join us in welcoming Jean to the Sandbox Banking team!
About Sandbox Banking
Sandbox Banking offers Banking as a Service (BaaS) infrastructure to financial institutions, vendors, and fintechs. The Sandbox Platform helps customers Build, Manage, and Monetize BaaS APIs. Glyue, our award-winning fintech API integration platform, enables banks and credit unions to deliver digital transformation.
Glyue enables customers to quickly and safely connect fintech to banking systems, grow revenue and customer satisfaction by offering APIs to banking customers and partners, managing risks, and optimizing capital allocation through programmatic interaction with other financial institutions and investors.
To learn more visit sandboxbanking.com.